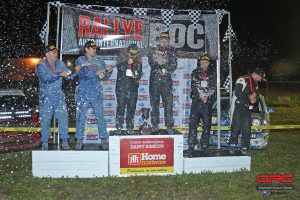 The dust has now settled on New Richmond following the presentation of the 43rd edition of the Rallye Baie-des-Chaleurs. It was certainly not the easiest edition to organize due to COVID-19 but we were convinced that we had to hold this event despite all the restrictions to restart the rally in Canada after almost 18 months of inactivity and we can say mission accomplished.

We would like to thank the competitors who responded. After this long period of absence and several canceled rallies it was not easy to find the motivation, but you were there, a big thank you !! Congratulations to everyone and to the winners in the different categories.

To our valiant and loyal volunteers, thank you for always being there year after year, the rally community owes you a lot by being a centerpiece for the holding of a rally event.

Another big thank you to our partners who generously contributed despite a different event, thank you for supporting and contributing to the success of our event.

Finally, for our rally fans, thank you for your understanding that we could not hold a spectator site, we faced several challenges with the health instructions to hold the event and unfortunately the non spectator sites. could not be held. We had to stay silent as much as possible to avoid large gatherings. Thanks again for your understanding.
Strongly a return to normal in 2022 and the return of the Rallye Baie-des-Chaleurs under the festive formula that makes it a must in America.

To see the results: http://rallyscoring.com/…/2021/BaieDesChaleurs/index.htm
Photo credit: Maxime Poirier