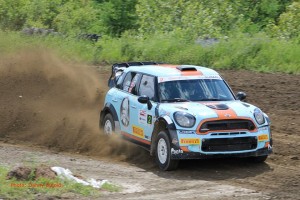 Over the years, the Rallye Baie-Des-Chaleurs has always allowed us to see beautiful surprises, the 40th edition does not seem to want to be an exception. After the first round of the Canadian Rally Championship, held at the Perce-Neige Rally in early February, Crazy Léo Urlichich is leading the championship with a great victory. He took advantage of Antoine L'Estage and the young Karrel Carré's mechanical problems as well as the offroad of Maxime Labrie to be crowned with the victory. Crazy Leo who is still one of the favorites of the crowd, should be present at the Baie-des-Chaleurs with confidence in his new car. Do not forget Antoine L'Estage in his Subaru Canada car. Antoine has always delivered a good performance here, his 7 victories acquired in Baie-Des-Chaleurs are proof.
Will last year's winners Joel Levac with his Mini-Cooper WRC and Simon Dubé in two-wheel drive on his Golf will be back to defend their titles? Can Brothers André and René Leblanc from New Richmond repeat their 2016 achievements on the podium? Will Maxime Labrie be able to get the car back on track in time for BDC? Can Quebeckers such as Steve Hobbs, Simon Vincent or Karrel Carré create a surprise? Will Boris Djordjevic in his powerful EVO X be able to get on the podium? It is still early to confirm all the headliners, but it is a dream for the 40th edition !!
At the Eastern Canadian Rally Championship level, Crazy Leo is leading in front of Jeremy Norris, with his new car, and Steve Hobbs is in third position.
The Quebec Championship (RSQ) also promises great battles. After the first race, Crazy Leo is ahead of Simon Vincent and the gaspesian Mikael Arsenault. This championship, which is back with 4 events, allows smaller teams to compete with other drivers with similar cars. Many Gaspesian can aspire to get on the podium.
Hope to see a lot of crews from all over the world for our 40th anniversary. It already looks very good !!