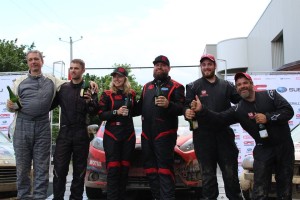 Everything was in place for beautiful battle in the 2WD class with many of the best drivers in this class in action. The Wallingford, Bailey, Dubé, Greenhouse could aspire to the top step of the podium and our premises Leblanc, Cyr, Laviolette and Francoeur to a place on this podium.
From the start the battles are very strong with 4 different winners on 5 special stage A. Chris Greenhouse take the lead early in the rally but, Bailey, Dubé and Leblanc exchanged the best times of special. However it is the steadfastness of Dave Wallingford with top 3 in all stages that puts him ahead of stage A.
Camp Brule, expected of all. With less than 1m30sec difference between the first 5, the 4 specials Saturday night promised. However, mechanical failures at Simon Dubé and Chris Greenhouse allowed local driver Mathieu Leblanc to score in third place. It is still Wallingford with its consistency and it is first 2 special victories which is in the lead after the long and difficult day of Saturday followed by Jason Bailey 45 seconds behind, it promises for Sunday.
From the start of the first stage, Dave Wallingford leaves no chance to these rivals by posting the best time in the 4 specials of Sunday. He is accompanied by Jason Bailey and Mathieu Leblanc on the podium. Graham Bruce and Patrick Cyr complete the top 5.
Photo credit: Danny Bujold